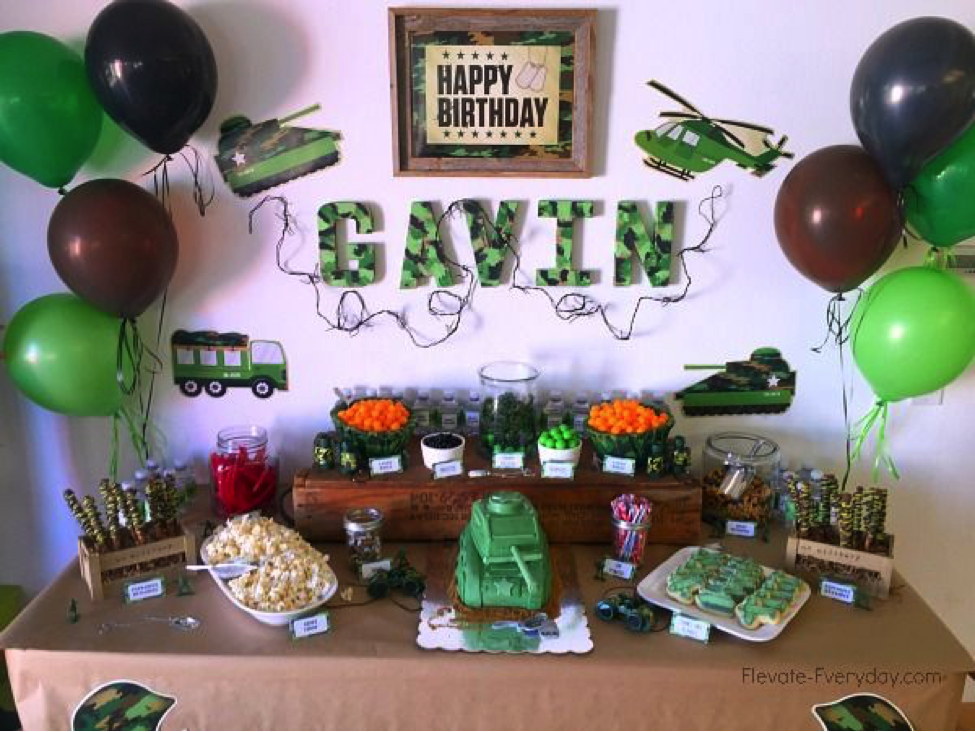 There is a feeling of excitement most kids have when they know about a party they will attend. It is even more exciting to them when they learn that they will be dressed in a different way other than what they are used to.
There are a number of options available for kids to select from when it comes to dressing up for parties. As a parent, you may likely get confused especially if it's a party without a theme. However, it is quite different when the celebrant wants his friends to grace their event in a themed wear.
One of the popular themes for kids' parties is the army theme. This kind of parties have most of the designs made in military ensemble, from camo themed tables to wall paintings or armored tankers, grenades and soldiers ready for battle. If your little one has been invited for this kind of party and you are wondering where to get the best kids army costumes for sale, there are a number of recommended stores both offline and online where you can get them.
We have also reviewed some costume ideas you can use for an Army themed party but first, let's look at how and where you can go shopping for these clothing items.
How to Find Costumes for Your Kids
The following are some tips to help you with finding costumes for your children when there is a party to attend:
Check Online Stores
One of the effective ways of finding what you need in this modern world is searching the internet. There are a lot of websites where you can find costumes that suit your kids and using their services can save you from a lot of stress. Be careful however, when shopping online as there are fake stores that fleece unsuspecting customers of their funds. If you need help on how to identify fake stores, you can check here
Local Stores
There are local retail stores in your area that you can find costumes for kids. The advantage of using these stores is your ability to go with your child so they can try out a number of options to see which one suits their taste and also fits them nicely.
Recommended Army-themed Party Costume Ideas for Kids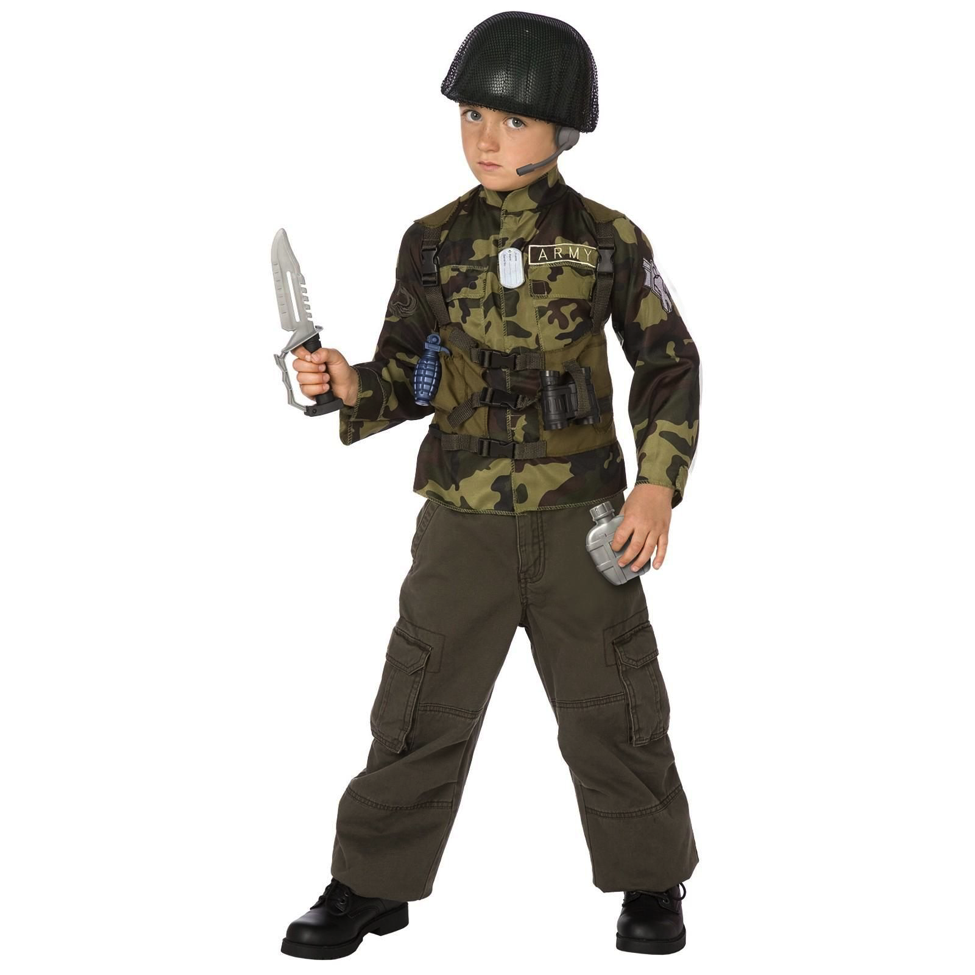 The following are some recommendations you can use to dress your kids:
Active Duty Kit for Deployment – Woodland Camo
This amazing kit comes with an M88 helmet and a Woodland camo covering. It also has a vintage canvas which will have your kid looking stunning. The kit which comes in different sizes has a short sleeve shirt, pants, water bottle, camo belt and a set of pet tags.
Active Duty Kit for Deployment – Desert Digital
This lovely kit has a drill cap, ball cap, and a coyote tan rucksack. It also comes with a short sleeve shirt, water bottle, face painting stick, and a set of pet tags. You can dress your kid in this kit and have them looking like a newly commissioned soldier ready for the warfront.
Active Duty Kit for Deployment – ACU Digital
With this kit, you get an M88 helmet with a camo cover, camo rucksack and a retractable visor. Just like other kits, you get a short sleeve shirt, water bottle, face painting stick, as well as a free set of pet tags. You can check this out if your kid wants to show up as an elegant military officer.
Complete Children Combat Kit
This combat outfit comes with a replica of an M88 helmet and an ACU cover. Inside the set, you can find a combat vest for kids, camo face paints and two grenades that have a reality sound. Most kids who are between the ages of 8 and 11 might prefer this because of its near reality features.
Full Role Gear for Platoon Leaders
This outfit comes with a camo rucksack, a replica M88 helmet, and a retractable visor. It also has an angle flashlight, camo face paints, combat vests for kids, cross draw vests for youths, camo water bottle, as well as a toy grenade with a realistic sound. With this gear, you are sure to make your child feel the excitement of being a smart soldier.
Rambo Costume
This outfit is ideal for young fighters who have passion for defending the defenseless. The set features a bandana, bullet belt, kids vest, face paints, and a free set of pet tags. There are additional inclusions like toy guns, BDU pants, and a toy knife.
Woodland Camo Suit for Kids
This camo suit is made of breathable, lightweight fabric. It has different shades of fire retarding camo fibers that are adjoined to the hood, pants and jacket. You can also find a camo wrap used to cover the rifle. With this suit, your child's imagination will run wild while playing paintball or army.
Full SWAT Set
This set comes with a toy gun, M88 SWAT helmet, SWAT Goggles and you have the option of 5 available vests to choose from. You can also customize the inscriptions on the vest so your child has the opportunity to see his name written on his kit. Gifting your child this set will be ideal if you want them to have a memorable outing.
New Earth Combat Set
This set comes with a lot of exciting features that gives children a good feeling when they are out for an event. It comes with an army draw combat vest which is specifically designed to look good on kids. It also has a holster that kids can fit their toy guns in. Other items you can find in the kit include a free set of pet tags and desert silencers, helmet with visor, toy desert knife and one pack of strip caps.
Camouflage Combat Vest for Kids
This is another kit with exciting features designed specifically for kids. With this fully adjustable kit, you get a fun vest that will last long. It looks like the actual war vest that soldiers wear and with its unisex design, kids of either genders can easily wear them. It has nine pockets used for storage and is made of Denier Polyester.
Camouflage Sniper Net Veil – Woodland
This net veil for snipers serves as an excellent tool for concealment for your young soldiers. The net is lightweight and has holes that make room for clarity of vision. You can get this for your child and watch him have a grand entrance to any party.
These are some of the costumes that you can try out for an army themed party. However, if there is no theme for the party and you need tips on how to dress your children for the occasion, you can check out this video.
Conclusion
Children always want to feel loved and a good way to show them love and attention is by giving them a sense of belonging especially at events. When they wear costumes that they feel comfortable in, you will certainly see them radiating excitement. You can go ahead and give any of the costumes a try.